Put a freeze on winter fires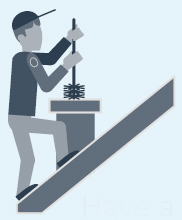 As you stay cozy and warm this winter, stay fire smart!
STAY SAFE
Have a qualified professional clean and inspect your chimney and vents every year.
STAY SMART
Store cooled ashes in a tightly covered metal container and keep it outside at least 10 feet from your home and any nearby buildings.
Did You Know…
1 in every 7 home fires and 1 in every 5 home fire deaths involves heating equipment.