Bolivar Fire Station No. 1 is fortunate to own some of the very best fire fighting equipment available.
Over the years, grant dollars have paid for a large portion of a few of our vehicles. The residents of the areas we serve are our number one priority, and the pride and value we place in our equipment reflects that.
Ladder 109
Placed in Service August 2022
The new 2021 Pierce Quint fire truck is both ladder and pump, replacing our 1998 Engine 102 and 1993 Ladder 109. It will serve as first out apparatus for all structure fires and has a horizontal span of 100 feet.
Discussions leading to the purchase took over two years, with the final price of the truck at $1,070,821, with approximately $579,000 being financed with levy funds over three years.
Our department is grateful to Lawrence Twp. Trustees and staff, and the villages of Bolivar and Zoar for their commitment to securing this great asset for the benefit of the community.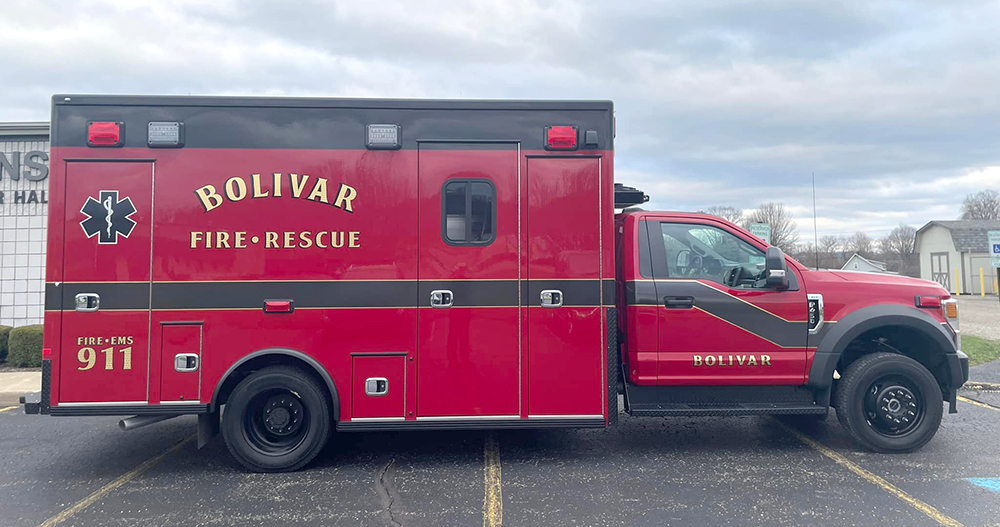 Medic 112
Placed in Service March 2022
After several covid related delays, we have finally been able to place Medic 112 into service. A special thanks to the residents of Lawrence Twp, Village of Bolivar, and Village of Zoar for the support that was needed to update to this ambulance.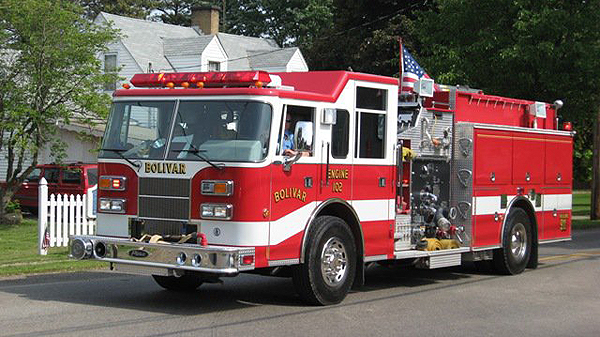 Engine 102
1998 Pierce 1250 GPM Pumper
This is our first-out engine for residential fires. It holds 1,000 gallons of water and charges all the radios, flashlights and battery chargers needed at a scene.
It seats five personnel; with the three back seats equipped with clipped on self-contained breathing apparatus, already attached to gear when exiting the truck.
♦ Did you know?
The person sitting in the front passenger seat is in complete charge of the truck – always.
Tanker 104
2003 Pierce 1250 GPM 3000 Gallon Tanker
Purchased in 2003 almost completely with grant funds, the tanker holds 3,000 gallons of water. It is the 2nd truck out for an area without fire hydrants. According to the National Fire Protection Association (NFPA), a well-involved residential fire will need 4,000 gallons of water to mitigate.
When you combine this vehicle with Engine 102 – we've got all the tools needed to contain a rural house fire.
♦ Did you know?
Bolivar Fire Station offers free smoke alarms, along with installation, to any home in our service area.
Rescue/Engine 103
2008 Pierce 1250 GPM Heavy Rescue Pumper

This gem offers multiple capabilities, and is used for auto wrecks and fires. The passenger side contains all the tools available for an auto rescue, including multiple airbags – the smallest of which will lift nine tons of weight off a person once inflated. The truck allows firefighters to literally cut a car out from around you, with the genesis rescue system of tools, including the jaws of life. Once extricated, the vehicle offers every life saving device that is available in an ambulance – except it's not equipped to transport patients.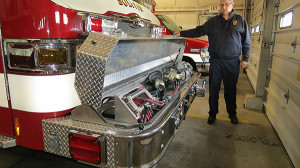 With its own generator, this truck could power a small house. The additional gas powered generator onboard can be used more than 100 feet away. Located on the top of this vehicle is scene lighting – spilling light as bright as a football field. This "all-in-one" truck is a mini-powerhouse that allows us to be prepared for almost any emergency.
The driver's side and rear of Rescue 103 holds fire fighting equipment. Everything from chain saws and axes to the hoses needed for fire fighting with water.
♦ Did you know?
The "Jaws of Life" are contained in the front bumper of Rescue/Engine 103.
Brush 107
2006 Ford 300 Gallon Brush Fire

Used mainly for wildland brush fires, this truck is kept filled with 300 gallons of water at all times. The vehicle is extremely useful in containing the off-road fires where the bigger trucks may not be able to get to.
♦ Did you know?
Although normally filled to capacity, the Brush 107 can be completely filled within three minutes.
Utility 108
2012 Ford F150

Basically a pickup truck – this vehicle is packed with full paramedic gear – offering help for emergencies without sending an ambulance – or if the other ambulances are on a call. Extremely useful as a backup when we aren't sure if people are involved or hurt in a fire.
♦ Did you know?
90% of the time, the Utility 108 comes back to the station without being needed. This is a good thing!
Medic 110
2007 Lifeline ALS Ambulance

Six minutes. That's how much time you've got before you must have help. Time is of the essence.
There is no "bring you back from the dead" insurance, but our two ambulances will help you beat the odds.
Medic 111
2009 Lifeline ALS Ambulance

Medic 110 and 111 are identical in everything except the year they were built. Used on a rotating basis or at the same time if necessary, both offer the complete spectrum of life saving devices on board.
In addition to being able to offer 30 different prescriptions through an IV, both ambulances have a Lifepack; a heart monitor capable of being used as an external pace maker, a heart monitor, with rhythm adjustment and defibrilating capabilities.
Bolivar Fire Station is blessed to have the best EMS equipment and people in the business. Our dispatchers will coach you in CPR so that you can begin the life saving technique in 30 seconds. We are far above the national average in cardiac saves, where patients go home after an episode. After a full cardiac arrest, where the patient is technically, legally and morally dead, the national average for surviving with function is 2%. We are proud to say that of 17 full arrests in 2013, six of our residents were able to return home.
♦ Did you know?
Close to 90% of all our action calls involve a medical or trauma issue.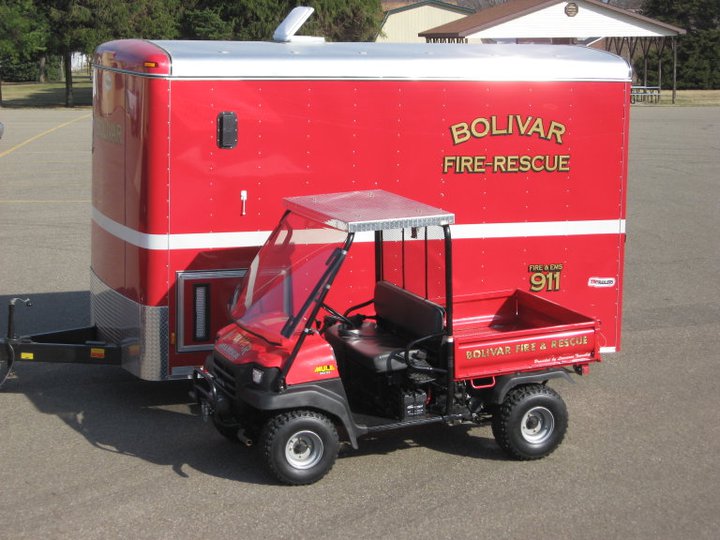 ATV-1
2005 Kawasaki Mule Rural Rescue

Donated by Lawrence Township Trustees, this All Terrain Vehicle is put to work at the many special events and festivals held in the Bolivar/Wilkshire Hills/Zoar area. Carrying 50 gallons of water, it is capable of putting out a small grass fire. Its main use has been transporting injured people caught out on the towpath or special event.
♦ Did you know?
Be careful out on the towpath – we get rescue calls for sprained ankles a couple times each summer.
Light Tower 1
2006 High Intensity Portable Light Plant

Saving us $10,000, this item was received from Tuscarawas County Homeland Security & Emergency Management Agency. The unit was repainted to match the other vehicles in the station. Offering 32 hours of bright light, it is powered by diesel fuel.
♦ Did you know?
National Severe Weather Preparedness Week is the first week of March. Learn more at Tusc Cty EMA.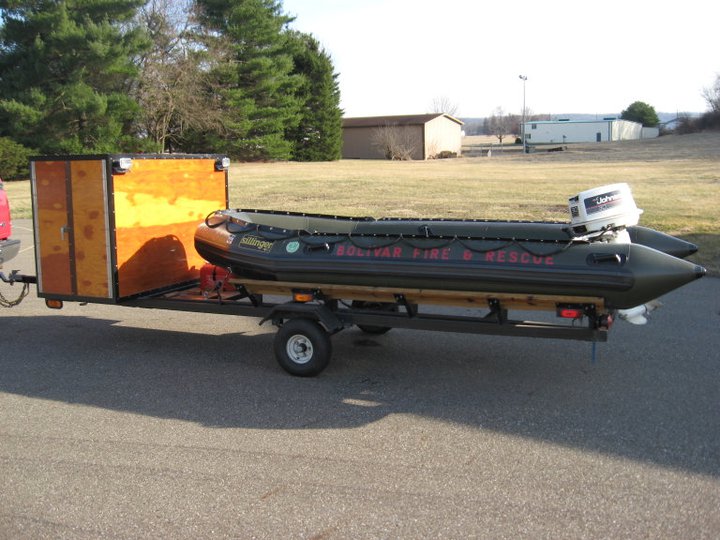 Water 1
1985 30 HP Water Rescue Boat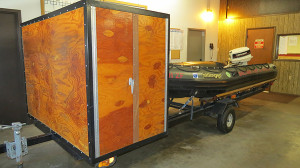 Yes, that's 1985! This is our oldest piece of equipment, but it has been well used. The boat covers the Tuscarawas River – even into Stark County and out into Fairfield Twp. During the flood of 2005, which separated Bolivar from the new "island" of Wilkshire Hills and Zoar, two personnel from the station slept in complimentary rooms provided by the Sleep Inn with the boat "docked" at the state garage just outside Zoar for nine straight days.
During that period about a dozen patients needed transport – some sick enough to require a helicopter rescue. Others were transported over the river at the interchange bridge to waiting ambulances on the Bolivar side.
♦ Did you know?
There have been three recent major floods – the worst being in 2005 when all access was cut off to Wilkshire Hills, Zoar, Tusky Valley schools and the area near Rt. 800. The other two occurred in 2008 and 2011.