Open House Oct 15, 2022 – noon – 4pm
Please join us Saturday, October 15th from 12-4 at Bolivar Fire Department for our Fire Prevention Week open house.
We will have lots of fun activities for both kids and adults including:
Kids firefighting props (spray water with a real fire hose)
Kids firefighters agility course
Jaws of Life vehicle extrication demonstration
---
New Fire Truck Push In – Aug 20, 2022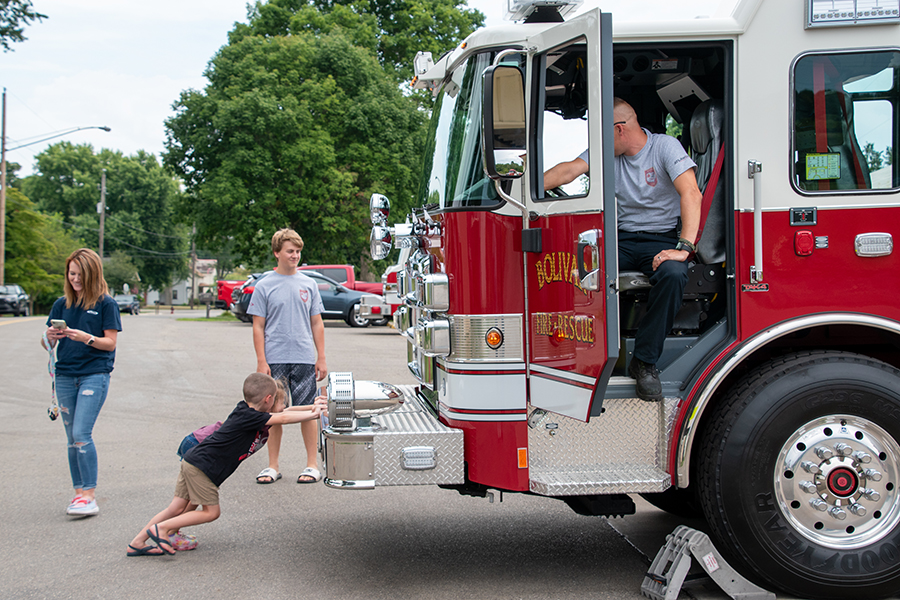 Residents were invited to the station as we celebrated the in-service of new Ladder 109 with a Push-In.
Attendees were able to view and climb inside both the Ladder truck, which offers a 100 foot horizontal span, and Medic 112, placed in service in late March of 2022. Cookies by Simply Cinnamon and beverages were enjoyed by all before the big Push-In, when both kids and adults literally pushed the truck into its new home inside the garage.
The new 2021 Pierce Quint fire truck is both ladder and pump, replacing our 1998 Engine 102 and 1993 Ladder 109. It will serve as first out apparatus for all structure fires.
Discussions leading to the purchase took over two years, with the final price of the truck at $1,070,821, with approximately $579,000 being financed with levy funds over three years.
Our department is grateful to Lawrence Twp. Trustees and staff, and the villages of Bolivar and Zoar for their commitment to securing this great asset for the benefit of all. View photos of the event here.
---
Strawberry Festival 2022 Parade
The Firemen's Parade in 2022 was bigger and better than ever! Sponsored by Wallace and Associates and LeBold-Smith Funeral Home, the event featured the Queens, Princesses and Little Miss Shortcakes of Strawberry Festival, along with floats, twirlers, and the Tusky Valley High School band. Neighboring fire departments joined us in the fun. Click here for photos of the event.
---
Safety Town 2021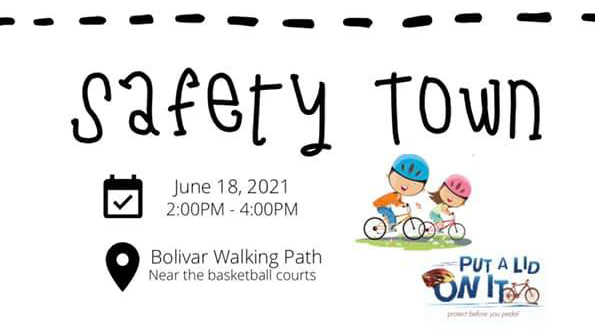 In conjunction with Bolivar Rotary Club, Lawrence Township Trustees, Bolivar PD, Ohio Billing, and the Bolivar Fire Dept. we helped host the 1st annual Safety Town event!!! The first 75 registrations received a free bike helmet that was purchased through a grant from the Ohio American Academy of Pediatrics.
The event was held June 18, 2021 from 2:00-4:00 pm at the Lawrence Twp River Community Park Walking Path near the basketball courts. Registration was open to children ages 4 to 7.
---
Thank You
We would like to thank the residents of Lawrence Township for the support of the Fire/EMS levy! We will continue to be good stewards of the tax dollars, and as always, try to find ways to improve and provide the very best service to our community!
---

The state of Ohio has a Burn Ban in effect between the hours of 6 a.m. – 6 p.m. beginning March 1 through May 31 and Oct. 1 through Nov. 30 each year.
---
Open Burning? Try this instead:
Reduce the amount of waste you generate
Reuse items in another way
Recycle – Contact your waste disposal provider about curb-side pickup or drop-off locations for bulky or hazardous items
Compost yard trimmings and food scraps, while creating a natural, free fertilizer.
Open burning is anytime you light an outdoor fire without a chimney or stack.
Protect yourself, your neighbors and your wallet by knowing the rules – what you can burn and where.
For a complete copy of Ohio's open burning regulations, contact epa.ohio.gov/dapc/general/openburning.aspx
---
Smoke Alarms
The Bolivar Fire Department has partnered with the Red Cross to begin installing smoke detectors for FREE! We hope to get a working smoke detector in every home in Lawrence Township. Call the station at 330-874-3115 or stop in for more details.
---
Car Seat Help

Did you know we have car seat technicians? Call the station at 330-874-3115 or email patrickmartinez@live.com to make an appointment and we'll help set your car seat up at no charge!
---
CPR Classes
Recently, an otherwise healthy young man experienced sudden cardiac arrest while golfing at the Zoar Golf Course. Due to the fact that the bystanders around him recognized him not having a pulse and beginning CPR immediately, EMS was able to successfully use a defibrillator and shock his heart back into a normal rhythm. Again, this young man only had a chance due to bystander CPR. If anyone desires to learn this life saving skill, The Bolivar Fire Department and just about every other fire department in Tuscarawas County will teach you CPR. Please reach out to your local fire department for more information. And again THANK YOU to all the bystanders who helped this young man today.
---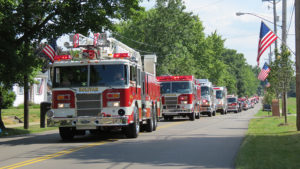 Strawberry Festival
Headed off by Bolivar Police, participants include floats carrying Bolivar's Strawberry Queens, Princesses and Little Miss Shortcakes; along with nearby towns' home days queens. Our mayor, local politicians running for various offices throwing candy to the crowds, dance troupes, majorettes, twirlers, drum corps, antique cars and ambulances are interspersed with fun loving local businesses.
In addition to Bolivar Fire Department vehicles, the parade includes visiting fire departments from Strasburg, Zoar, Fairfield, Mineral City/Sandy Twp, and Bethlehem. View photos from previous events here. We hope to see you again in 2021!
---
ISO Recognizes Bolivar Fire Department
BACKGROUND:
The Insurance Services Office (ISO) is a Private Nonprofit Organization that evaluates fire loss risks based upon a Fire Suppression Rating Schedule that ISO developed for their use to determine the capability of a fire department to respond and suppress fires. The rating schedule assigns a numeric value called the Public Protection Class (PPC), ranging from 1 – 10, to a fire department or an area within the boundaries of the fire department. Insurance companies that subscribe to ISO services, and pay fees to ISO, use the PPC number to establish fire insurance premiums. The lower PPC numbers result in lower fire insurance premiums.
Prior to 2015 the residents served by the Bolivar Fire Department enjoyed an ISO PPC of 6/9. In 2003 ISO implemented a "5 Mile Rule" which changed the PPC from 9 to 10 (unprotected) for all properties that were located more than 5 road miles from the closest fire station. The new classification resulted in Fire Insurance premiums increasing by 300% – 400% for many properties.

In 2003 The Bolivar Fire Department was awarded the FEMA Fire Act Grant that supplied the area with a 3000 gallon water tanker. In the summer of 2002, 2 part-time firefighters were assigned to work 8-hours shifts 5 days per week, within a few months the staffing levels were increased to the crew of 2 working 12 hours a day, seven days a week. After a few years and good fiscal planning staffing was increased to a crew level of 3 working 12 hours a day 7 days a week and then there crew level dropped to a staffing level of 2 during the evenings. In 2012 staffing was increased to a crew level of 3 working 24/7. In 2014 the department was awarded the SAFER Act Grant which increased our staffing level to a crew level of 4 working 24/7. All of the staffing changes were done in a good faith effort to provide our residents and visitors with prompt and professional fire and EMS protection and with the goal of reducing the ISO PPC and thereby reduce fire insurance premiums for property owners. With the exception of the assistance of the SAFER Act Grant of 2014 and some other local grants, all staffing increases and department equipment upgrades have been paid for by the same levy that was passed by our residents back in 2001.
CURRENT STATUS:
The Insurance Service Office adjusted the fire protection rating for all of Lawrence Township, excluding Zoar. The ISO rating improved township wide from #5 rating to a new rating of #4. This rating took effect February 2020. For many, this could mean a reduction in your insurance premiums. We encourage you to reach out to your provider to be sure they are aware of the current status.
CONCLUSION:
Your patience during this lengthy struggle to gain a better PPC is most appreciated by the Bolivar Fire Department personnel.
Respectfully,
Shawn Lynch, Chief